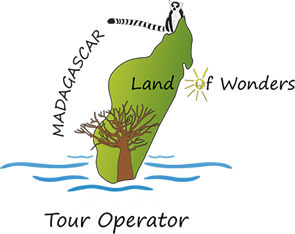 Entité : MADAGASCAR LAND OF WONDERS
Contact : Mme RANAIVOSON Holimalala
Téléphone : +261 34 17 860 07
Année adhésion TOP : 2015
Matricule : 049/TOP
Catégorie &
Spécialisation :
Madagascar Land of Wonders was set up in 2014 by its owners who have gained extensive knowledge and experience of Madagascar over 25 years in the travel industry. We have the know-how and trained staff to make sure you have the best possible experience in Madagascar.
We are available 24 hours a day, seven days a week and reply to your enquiries in short notice
We are always there for you, whatever your needs
Services: meet & greet at the airport, arrange transfers to hotels and to the airport, book the hotels and flights, organize excursions, visits, cruise ships ground handling
Products: See Malagasy tradition, culture, nature and wildlife, trekking and adventure circuits. for individuals, couples , honeymooners ,families and groups.
MADAGASCAR LAND OF WONDERS